---
Asus Zenbook UX305UA Review
Posted on August 1st, 2016 by Kevin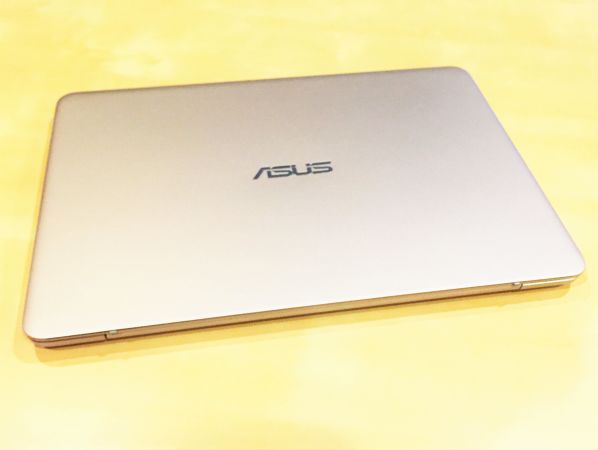 I recently picked up the 13" Asus Zenbook UX305UA, an ultrabook with a lot of promise. It's light, portable, and powerful. And, long story short, you'd be hard-pressed to find a better combination of those features for the price point -- because, it's impossible. The UX305UA has the best hardware in the $700-$1200 range. And more than a few ultrabooks over that price point are also woefully unequipped to compete. As with any piece of hardware though, there are downsides. And only you can prevent existential disappointment by making sure that you can live with those downsides, and, probably also by regular visits to a therapist. I'm just kidding; just buy more technology. That's what makes people happy.
First off, this UX305UA was purchased from Amazon, which is important because it seems to be an Amazon-exclusive model. Newegg sells a similar UX305UA exclusively as well. At the time of this writing though, the Newegg model is $200 more, and as far as I can tell, the only improvement it makes over its twin is a backlit keyboard. I love me some backlit keyboards, sure. Writing, gaming, and coding in the dark are way easier if you can see what you're doing when you need to, and typing out the memoirs of my fall when I inevitably slither into the dark pits of hell would surely be much simpler with an illuminated qwerty. But not for an extra $200.
It runs cool and quiet. I've seen some reviewers say that their internal fan is loud and kicks in every few minutes, but they must have a different model than I do, because my fan barely kicks in at all. And when it does, it's hardly noticeable.
Hardware
This perky fellow comes with either a core i5 or i7, 6th generation Skylake processor, specifically the 6200U. I was able to get my hands on the i5 version, and for casual gaming and wordsmithing, it runs like a dream. The SSD makes things exceedingly snappy. It boots up in seconds. Loading programs and keeping multiple tabs and windows open will barely scrape this guy's processing power. The onboard integrated Intel Graphics 520 is decidedly not exceptional, but it'll do in a pinch -- especially for the price and in the context of the model's combined features. The 6th generation Skylake processors are getting better at integrated graphics anyway. Generally though, when you go mobile, you sacrifice graphics horsepower. But you're likely going to want your machine to put its resources into other functions, like battery power and general multitasking. The UX305UA does just that.
A decent alternative, if you don't mind losing a bit of portability, is the new Asus K-Series gaming laptop. It comes with a GTX 950 and runs $50 less than the UX305UA. The K-Series is light for a laptop, but it's not an ultrabook. Its 15" display makes it not the most portable option.
Disclaimer: I do not work for or have any affiliation with Asus, they just consistently offer the best hardware for the price. And that's a thing I like tremendously. I've favored them for this reason for the past few years. But in another few years, it could be somebody else offering the best prices and hardware.
For instance, the UX305UA also comes with a 256gb SSD. This is one of the only ultrabooks I found in the price range with that much storage; most everything else has 128gb, even the Dell XPS series. And yes, on paper the UX305UA is better than an XPS. That no-bezel display is cool as all get out, like an endless pool's illusory drift into the sunset. But you know what else is cool? Paying less for better hardware.
In terms of connectivity, the UX305UA comes with two USB 3.0 ports, one USB 2.0, a micro hdmi port (yeah, lame), and a combo headphones/mic jack. The USB 3.0 port on the right of the machine is a Charger+, boasting up to 50% faster charging speeds for compatible devices.
Screen
The 13" matte non-touch display is great for general purposes. Personally, I don't need a touchscreen on something that I type on. There are tablets and smartphones in the world, and you can touch the crap out of them.
The brightness range is solid, and you'll find that hd streaming will look fine. For those of you who are planning to spend a lot of time staring at it, the display turns down a great deal to match the surrounding ambient lighting, and the onboard EyeCare software even includes a button to turn off the blue light and save your eyes a bit of strain. I generally keep the screen on the lowest setting possible, unless I'm outside or watching a video, and everything looks great.
Battery Life
The UX305UA's battery holds a lot of juice. Enough for about eight hours of general use, in fact. The official specs say ten, and it does seem like it can come close to that if you aren't demanding much from your machine throughout the day. But it's a lot of battery, and a lot of time spent not worrying about finding an outlet.
Extras
I personally enjoy the Asus Smart Gesture touchpad software, which provides some extra functionality for scrolling, clicking, changing desktops and tabs, and zooming. Some people remove it as if it were any other bloatware, but for me, it's become a pretty indispensable tool.
Asus claims to use something called IceCool technology, which keeps the aluminum chassis cool where your hands rest. I'm assuming this means they just don't put anything hot underneath that general area, but sure, that's patented technology, I guess.
What's Wrong With It?
Three things are wrong with it. 1.) The hinges are too loose. Seriously, you can tilt the screen back with the force of gravity just by picking up the laptop while it's open. It doesn't move by itself while at rest, or anything, but it would have been nice to have less give. This is something you can actually fix yourself by opening the machine and following instructions on YouTube, but I wouldn't recommend it unless you know your way around in there. Going this route will probably also void your warranty, and that's not ideal.
2.) The first Windows update you download will brick the sleep function. This is a known issue, but so far Asus doesn't have a fix for it, and mostly refuses to care. That's an unfortunate and unacceptable approach for a major company to take, but if you know about this going into the purchase like I did, then you can't exactly complain. Some reviewers have melodramatically suggested that this renders their machine unusable. But the fact is that there's a simple fix -- and that is to change the sleep setting to hibernate. Hibernate saves your session just like sleep, you just have to log in again. Taking three seconds to log in hardly renders the machine unusable, but sure, this issue should have been addressed when it was first discovered.
3.) The keyboard isn't the best. It's functional, and feels fine, but it takes some getting used to. The keys have an odd feel and don't press cleanly until you learn to hit them straight on. The K-Series has a much better keyboard.
It's definitely not the best keyboard in the world. But it doesn't take long to get used to.
Another issue for some is the touchpad. Historically, people just don't like Asus touchpads. I don't mind them myself, but they do take a while to figure out. It's definitely an unusual pad, in that it's made of almost the same metal as the chassis. At first, if you're not looking, you can find yourself sliding your finger over the wrong area of your laptop. Admittedly, that's a little embarrassing, but you'll likely recover. The weirdest thing is getting used to the extra friction. If you've never had an Asus before, it can be like learning to use a touchpad all over again. I've learned to appreciate the feel of it after a while. It's solid and sturdy in comparison to most pads, but the feel is just very different.
Overall
You might find a better general use ultrabook somewhere in the vast minefield of today's technological landscape, but I'd be surprised if you did. This guy's a trooper. It has awesome hardware, extreme portability, and some nice extras that easily overcome the competition. For a $700-$750 ultrabook, you'd have to spend close to double that to get anything better.
Specs
CPU: i5 or i7
GPU: Intel Integrated Graphics 520
Storage: 256gb SSD (512 with the i7 model)
Ram: 8gb (soldered)
Battery Life: Up to 10 hours (12 hours with the i7 model)
Screen Resolution: 3200x1800
Overall Rating: 4 Swoops out of 5
Rating Breakdown:
For mobile workers who enjoy casual gaming and streaming: 4.5 Swoops
Verdict: Highly recommended. It's damn near close to perfect for these purposes. Unless you're out to get the latest and greatest hardware, this will take care of everything you need.
For gamers: 3 Swoops
Verdict: Meh. The integrated graphics aren't going to get you as far as you'd like. For a solid alternative, go with the K-Series for $50-$100 less.